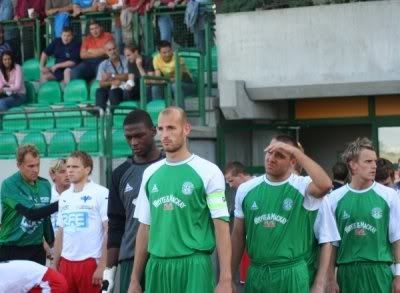 Hibs captain Rob Jones is all but out of tomorrow's tough trip to face Inverness Caledonian Thistle at the Tulloch Stadium.

6ft 7in Jones missed last week's disappointing 3-1 defeat at Aberdeen after injuring his groin in training.

The Hibees had hoped Jones could shake off the injury in time for the Inverness game, but it now looks unlikely that he will be involved.

Hibs medical team think it's a problem with his back that is causing him pain in the groin area and are working away to get the big man fit.

With the 27-year-old missing it gives a chance to two youngsters, Torben Joneleit and Darren McCormack.

Joneleit arrived on loan from French cracks Monaco in the summer but has only featured on a couple of occasions for Hibs and this could be his chance.

Fighting Joneleit for Jones' shirt will be another product of the famous Hibernian youth academy, Darren McCormack.

McCormack has played twice for Hibs this season against Queens Park in the CIS Cup at Hampden (along with Joneleit) and also played from the start in Hibs 4-1 win over Kilmarnock earlier on in the season and had a superb game.

Hibs boss John Collins has admitted that both players come into contention for the game, he said:

"Rob is looking doubtful for the weekend, we're looking at less than 50-50 at the moment.
"Obviously we'll give him every chance of making it but we will make a decision on him today before we head for Inverness.
"It'll be a blow if he doesn't make it but we have got cover in that area of the park, we can look at bringing Torben or Darren in.
"We're at a stage right now where we have double cover in most areas of the park and it's a times like these that you see the benefit of it."
Thanks once again to the Hibernian Interactive team for the use of the photo, you can join Hibs Interactive, and view ALL of the Hibees goals this season, as well as watching games LIVE on the internet(Only if you live OUTSIDE the UK) by clicking on the following link:

http://www.hiberniantv.co.uk/hiindex.php
Tell us what you think of this news on the www.Hibernian-Mad.co.uk message board, at the link below.
http://www.hibernian-mad.co.uk/mboard/loadboard.asp