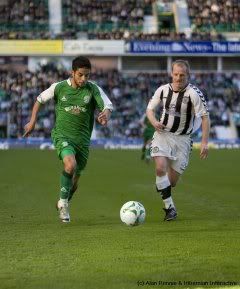 Hibs midfielder Merouane Zemmama has today revealed his delight at scoring on his international debut.
The 25-year-old Moroccan midfielder had been in international exile, after he was banned from appearing for Morocco after his move to the Hibees from Raja Casablanca in 2006.
There has been an on-going dispute over the midfield magician's contract with Raja, the Hibees signed him on a free, but Raja claimed Zemmama still had two-years of his deal to run.
Claims also surfaced that papers had been forged and had been sent to Easter Road from a back street internet café in Morocco, a claim denied strenuously by both Hibs and Zemmama.
Hibs eventually agreed to pay Raja a fee of about £250,000 to buy out Zemmama's apparent contract with them, to put the matter to bed.
The ban placed on the player was finally lifted by the Moroccan FA and he was immediately called up to the Moroccan international squad to play Mauritania, and dually scored in a 4-1 win.
Zemmama, currently on loan with United Arab Emirates side Al Shaab, due to visa problems for his new 17-year-old wife, said:


"I am very happy with this debut.
"It was magical and I am very happy to have found a solution to the controversy which surrounded my move to Scotland.
"My dream has always been to play for the national side.


Thanks once again to Alan Rennie and the Hibernian Interactive team for the use of the photo.
Hibs Interactive has all of the highlights from this season's games, as well as archive footage from season's gone by for your viewing pleasure.
If you live outside the UK you can also view the Hibees games LIVE with commentary from the Interactive team.
You can do all of this by clicking on the following link:

http://www.hiberniantv.co.uk/hiindex.php
Tell us what you think of this news on the www.Hibernian-Mad.co.uk message board, at the link below.