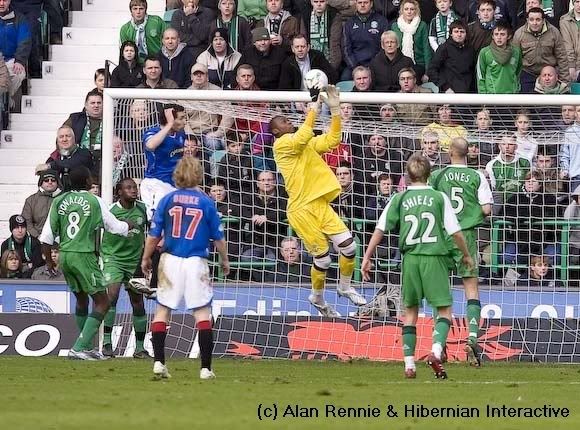 Hibs goalkeeper Yves Ma-Kalambay has been called up to the Belgium national squad for the first time.

Ma-Kalambay, 21, has been called up to attend a training camp, as well as a training match with Belgian side Standard Liege on February 6th by Belgium boss Rene Vandereycken.

The 6ft 5in goalkeeper has been a regular for the Belgian U21 side, but this is his first call up for the full side.

Hibs boss Mixu Paatelainen was delighted with the news and said:

"It's great news for Yves. He has been involved with the Under 21s for some time and has done well for them and for the club.

"It's good experience for him and as a manager you always like to see your players getting called up to their national sides.

"I know that he was given a bit of a hard time recently but I don't want to focus on the negatives.

"Whether you are Maradona, Pele or Ma-Kalambay, a goalkeeper or a striker, you are going to make mistakes at some point. It's how you come back from it that counts in the end and it is always up to the player to go out and prove what they can do.

"We all know the qualities that he has as a goalkeeper and I think that it will be good for him to be involved at this higher level with Belgium."

The big man has had a tough time of it lately, let's hope this gives him a boost.
Well done big Yves.
Thanks once again to the Alan Rennie and the Hibernian Interactive team for the use of the photo, you can join Hibs Interactive, and view ALL of the Hibees goals this season, as well as watching games LIVE on the internet(Only if you live OUTSIDE the UK) by clicking on the following link:

http://www.hiberniantv.co.uk/hiindex.php
Tell us what you think of this news on the www.Hibernian-Mad.co.uk message board, at the link below.