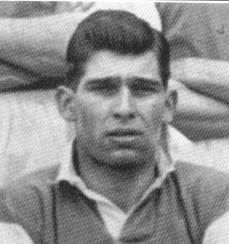 It has been revealed today, that legendary ex Hibs manager and player Eddie Turnbull is to be introduced into Scottish Football's Hall of Fame.

Turnbull was part of Hibs world famous forward line, The Famous Five, and was also manager at Easter Road.

As a player he became the first British football player to score a goal in European competition.

He also won THREE championships as part of the famous Hibs side of the 50's, in 1947/48, 1950/51, and 1951/52, but only went on to receive 9 caps at international level. Turnbull revealed in his recent autobiography, that this was down to a fall out with a member of the panel that used to pick the International team back then, or he would surely have went onto gain many more caps.

He also played in all three of Scotland's games at the 1958 World Cup in Sweden.

Turnbull played inside left for the Hibees in the late 40's through to the mid 50's and scored over 100 goals for the club.

By the time Eddie retired, in 1959, he had collected three Scottish League Championship medals, 8 Scotland caps, 1 Scotland 'B' cap, 4 Scottish League caps and played and lost two Scottish Cup Finals.

He became Hibs manager in 1971, after a stint in charge of Aberdeen, where he won the Scottish Cup in 1970 against Celtic, having previously lost the 1967 final to the Glasgow club.

While Hibs manager he won the League Cup in 1972, were runners-up in the League Championship twice, were twice Scottish Cup Finalists and Won the Drybrough Cup in 1972-73 and 1973-74.

Eddie resigned as manager of Hibernian Football Club and retired from football shortly after Hibs lost the Scottish Cup Semi Final of 1980 to Rangers after nearly 35 years in the game.

Eddie becomes the FOURTH member of the Famous Five to be inducted, only Bobby Johnstone remains.

Also to be inducted along with Turnbull will be Gordon Strachan, Ally McCoist, Allan Hansen, Walter Smith, Eddie Caldow, Jimmy Cowan, Willie Bauld and Rose Reilly.

CONGRATULATIONS EDDIE, from all of us here at www.Hibernian-Mad.co.uk

Tell us what you think of this news on the www.Hibernian-Mad.co.uk message board, at the link below.